To set up the OwnCloud calendar in the various clients (e.g. Outlook calendar, Thunderbird calendar), since the OwnCloud upgrade on August 16 2019, you need a token that you can create via the cloud. See the article below for instructions on how to do this.
Token creation #
Log in to cloud.uni-ak.ac.at.
ATTENTION: Please call up the ownCloud directly via the address https://cloud.uni-ak.ac.at and not via the link on the base, as otherwise there may be problems with the setup on MacOS and iOS devices.
Click on your name in the top right corner and then on "Settings".
Now click on "Security" on the left.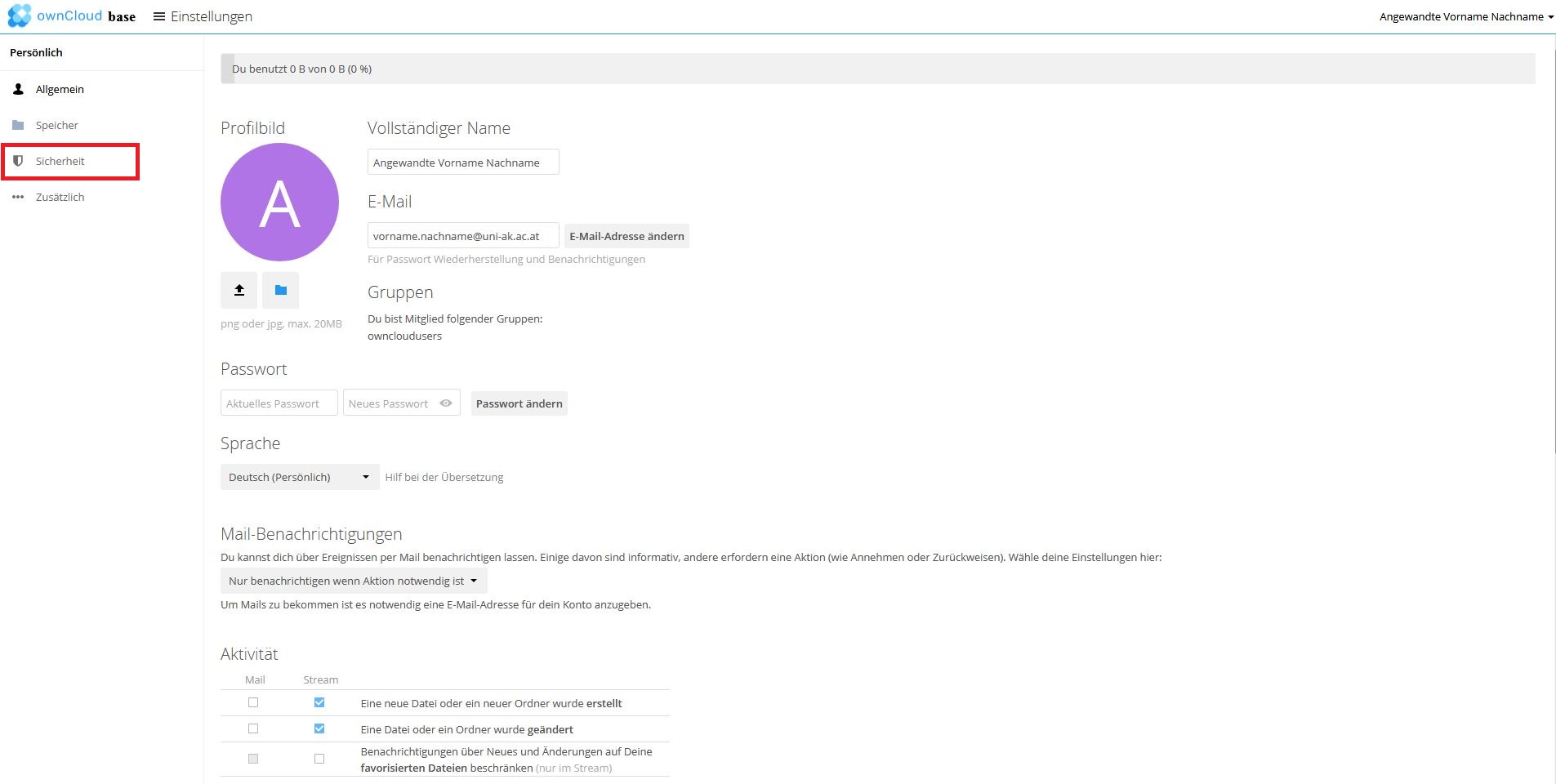 Under "App passwords/tokens", enter any name for the token in the "App name" field.
Now click on "Create new app passcode".
Your token will now be displayed. It is best to copy the user name and the password/token from the two fields and save them in a text document. Now be sure to click on "Done".
ATTENTION: If you click on "Done" the token will be invisible. Save the data beforehand.
Copy calendar link #
Now navigate to your calendars by clicking on the drop-down menu at the top left and then selecting "Calendar".
You can select individual calendars by clicking on the three dots next to the calendar you want to share.
Now select "Link", a link should appear here. Copy this link as well.
It is also possible to add all calendars via a link. To do this, click on "Settings & Import" at the bottom left.
Here you can now see a link for iOS/OS X (Apple) devices and a link for Windows/Android and other devices.
Client setup #
Now follow the instructions for the client you want to set up:
(Here you also have to make sure that you use the data from the previously generated token as the user name and password; one token each for a client.)