In this article we will show you how to upload and share files to the cloud. You can do this directly via https://base.uni-ak.ac.at/cloud/ or via the nextCloud client on your PC, laptop, etc.
Upload files #
Open https://base.uni-ak.ac.at/cloud/ and log in with your p-/s- number and the corresponding password.
To upload a file to NextCloud, you can Drag and Drop it into the window or click the plus icon. Attention, the upload limit (For single files) via the browser version is 10 GB. If you want to upload videos to use in the Web player, please note that they must be in .mp4 format.


Now select "Hochladen" or "Upload".



Now navigate to the file, select it and click "Open".



The document should now be uploaded to Nextcloud.
Share with university members #
Click the Share icon.
Now a column with further setting options opens on the right. In the "Teilen" / "Share" tab, you can share the document/folder with a person or group.
Furthermore, you have the option to specify whether the file can be shared and, or edited by the person/group.

Share via Link #
If you want to share the file or folder with a person, click "Teilen" / "Share" and then click "Link teilen" / "Share Link"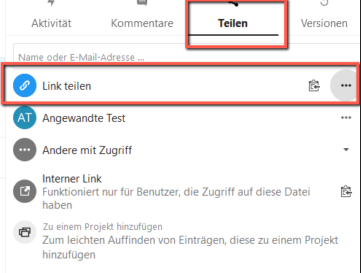 To protect the file, you can select "Passwortschutz" and enter a desired password. You also have the option to set an expiration date should you wish for the document to be available only for a certain period of time.
By "Bearbeitung erlauben" the file can also be edited directly via link.
"Download verbergen" removes the download button in the link. The file can thus only be viewed.



Now you can copy the link, which you can share with others (e.g. by e-mail ).



This is what the password-protected share looks like when you click on the shared link:

After authorization, the file can be downloaded.

Links that contain videos (mp4) can be directly played in the Web player