First you need to start the program "Mail".
If you didn't already add an E-Mail account the mail-assistant should start immediately. If the mail-assistant does not start after opening the mail programme go to the menu bar and choose "Mail" -> "Accounts". Now click on "Add Account".
Alternatively you can go to your "System Settings" -> "Internet Accounts" and add a new account there.
On the first page enter your name, @uni-ak.ac.at mail address and the password of your p/s-account. Click "Sign In"
Now type in your username (your p-number or s-number), choose account type "IMAP" and type in "imap.uni-ak.ac.at" as incoming mail server and "smtp.uni-ak.ac.at" as outgoing mail server.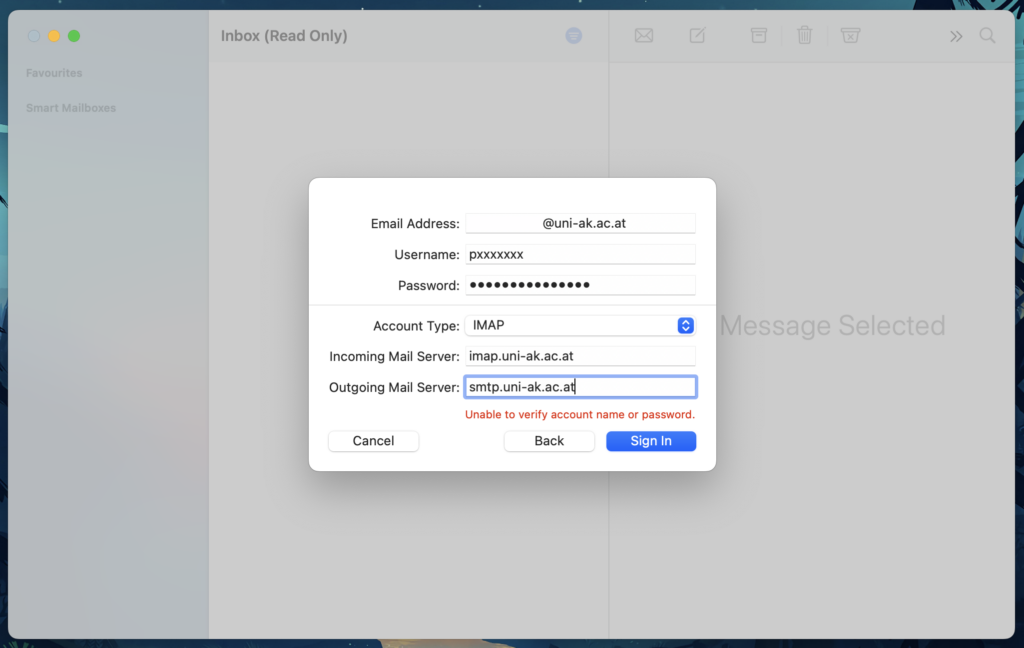 Now you can select if you want to use this account for your notes too. Tick or untick the box and click on "Done".
Afterwards go to your Mail settings. You can find them by clicking on "Mail" in the menu bar and selecting "Settings".
Now select the server settings. Click on the two boxes next to "Automatically manage connection settings" to disable (untick) them.
After disabling the automatic configurations you'll see the ports. The automatic setting usually doesn't select the right ports. Adapt the settings as shown in the screenshot below.
Server for incoming mail:
Server: imap.uni-ak.ac.at
Port: 993
Server for outgoing mail:
Server: smtp.uni-ak.ac.at
Port: 465
Now Mac Mail should work properly. If you still can't see your mails you might have to disable the filter that could be enabled by default. When this filter is enabled you'll only see unread emails.